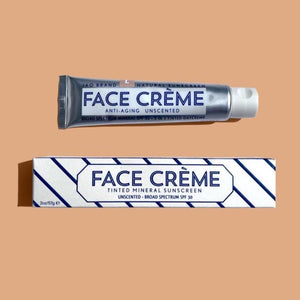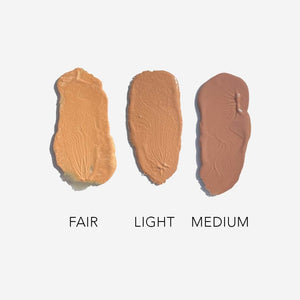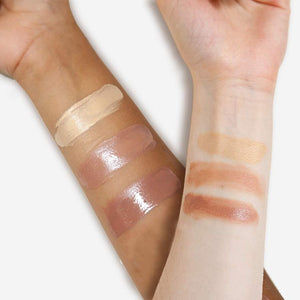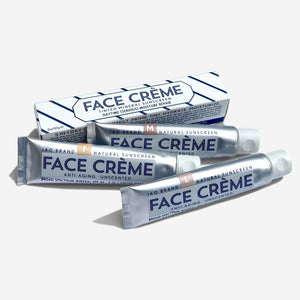 Product image 1

Product image 2

Product image 3
Product image 4
Product image 5
Product image 6
Product image 7

Full Coverage SPF 30 Day Crème
Your skin personalized.
100% Mineral Tinted 

Sunscreen with Phytoceramides
Broad Spectrum - Unscented - Reef Safe

57g/2oz Tube
*If you ever tried our "World Shade" it is now "Medium"

*For best results, prep skin with moisturizer or face oil. Apply like foundation with makeup sponge.

 We know that it can be difficult to choose the correct product or shade when ordering beauty products online. Therefore, we strongly encourage you to order a sample before you purchase a full size of any Face Crème Day product. We are not able to accept returns on wrong color match.
5-in-1 Day Crème:
Our 100% Mineral High Micron (non-nano) Zinc Oxide SPF30 Day Crème provides the best defense against wrinkles, dark spots and sagging skin. PROTECT skin against damaging UVA/UVB rays with our physical block barrier crème. Naturally derived earth mineral tints provide healthy, even COVERAGE to correct skin tone and conceal imperfections (replaces foundation). Multi-active phytosterols firm and plump expression lines while adding HYDRATION. Plant-based oils of Plum, Rosehip and Meadowfoam naturally MOISTURIZE. Our unique formula delivers anti-inflammatories and antioxidants which help to reduce redness while SOOTHING and assisting the skin in regeneration. Achieve the benefits of healthy skin with our tinted Day Crème. REEF SAFE.
Use year round, from slopes to seaside, and golf course to morning commute.  For best results, smooth thoroughly after moisturizing skin (we love to apply it over Seed Face Oil!) Blend with a dab of SunGleam Illuminator for a sun-kissed glow no matter the season. Unscented. Plant-based, naturally derived ingredients. FDA certified lab rating of SPF 30. Dermatologist tested.
Colors may look too dark or peachy right out of the tube.  The tone changes when blended into your skin.  
Spread the Jao and Rub It the %$@# In!!!

> Why Gale created this
"I live at the beach and I love the sun. Tinted Face Crème Day allows me to enjoy both safely. It has really saved my face. My skin looks and feels great." 
Zinc Oxide
The reason we use high micron, non-nano, reef safe Zinc Oxide as a sunscreen is we like that it is a physical blocker of UVA/UVB rays and not a chemical. Since our products are multi-purpose, we thought you should know about the many other benefits of Zinc Oxide for the skin.
Its More Than Just a Sunscreen 
Uncoated Zinc Oxide is very therapeutic to the skin. (It is used in Calamine lotion.)
Provides all around skin protection with its antimicrobial and antibacterial properties.
Helps cells from being damaged by UVA/UVB rays, which halts the ageing process.
Supports wound healing by keeping the area moist and clean facilitating skin repair.
Zinc Oxide is astringent and prevents oil formation on the surface of the skin.
Helps revive your skin's glow by shrinking large pores and tightening skin to help conceal damage.
Zinc Oxide is effective for acne treatment as it combats skin irritation and inflammation to lessen breakouts.
Zinc Oxide reduces the chance for contaminants to penetrate the skin
It facilitates the growth of new tissue to heal skin.
Suitable for those with sensitive skin and acne prone skin.
Zinc Oxide is approved by the FDA as a Category 1 skin protectant.
Helpful as a soothing preparation for facial redness and steroid-induced thinning of the epidermis.
If you are traveling and you happen to get a heat rash or an acne breakout we hope you will remember the benefits of Zinc Oxide!
Because of this high percentage of zinc, our product may appear a bit thick. Apply to moisturized skin and spread with a bit of a pat across the facial skin, then even out.
How To Use
Prep skin with moisturizer or face oil.  Apply like makeup. Place a pea-sized portion directly to the center of face and blend out with a bit of a pat. Because of the high percentage of zinc, our product may appear a bit thick which is why it is best to let your moisturizer set and start with a small amount of product.
*Tinted sunscreens may appear dark, please make sure to rub in completely for perfect color match. Spreads easier when skin is primed with oil or moisturizer.
This product can be added to daily moisturizer in winter when less SPF is needed. NOTE: IF YOU MIX FACE CRÈME DAY WITH MOISTURIZER THE SPF WILL BE REDUCED.
Here are a few helpful hints from the lovely make-up artist Nancy.
1) Don't skip the facial oil/moisturizer step before application. I do my usual facial oil and moisturizer, let it soak in while I get dressed, and THEN add a layer of this. It glides on like a dream.
2) Try skipping foundation after. You likely don't need it. Just dab on your concealer wherever you have some discoloration.
3) Follow with a light brushing of a translucent powder just to set the look and take down any shine a bit.
4) Enjoy how glowing and healthy your skin looks!
The Perfect Shade
A common mistake many people make is matching foundation to the back of the hand. This is a huge no-no because typically, the back of your hand is a lot darker than the skin on your face. Instead, always color match your foundation to your neck or your jawline. This trick will ensure a closer color match and give you a much better, more natural result. 
Play it safe and choose a foundation that is one shade lighter than your skin tone—you can always add depth with bronzer. If that still doesn't work, try custom mixing two shades together to make your perfect foundation. This is the #1 trick used by MUAs to color match clients because it gives the makeup artist more control to create the perfect shade.
Mineral Zinc sunscreens will rub off and need to be re-applied every 2 hours. Be smart in the sun. Wear a hat, find shade. And don't stay out in direct sun when the rays are strongest between 12-4!
Blend with the SunGleam Illuminator to add that sun kissed glow and warmth.
A Review
From The Hermes Hippie...
"A few years ago on the blog, I had raved about the newly released Jao Brand Face Crème. At a time when finding green beauty creams was a fairly Herculean task, the Crème was a rich, indulgent treat that gave all of the sensory delights of a conventional cream moisturizer and kept my skin soft and supple even in the dead of winter.
Which is why I was thrilled when Jao Brand released a tinted SPF version of the Crème along with a sun-protecting SunGleam Illuminator: a shimmering, golden SPF cream packed with real 24k gold. I bought both and have been wearing them fairly consistently for the last couple of weeks and, not surprisingly, I am in love.
The Tinted Day Crème is ideal for those of you who love a heavy coverage foundation. It's thick and rich (though not at all greasy nor pore-clogging) and provides much more coverage than my other tinted SPFs. I prefer my coverage to be virtually non-existent, so it took me a moment to adjust to the much heavier coverage of the Crème, but I think that wearers of traditional foundation will find it to be just right.
But when the Crème really shines (pun intended) is when I mix it with the SunGleam. You really only need the tiniest dab of the latter: it's so shimmery that using too much can leave you looking a little like the Tin Man. A drop mixed in with the Crème, however, will give a radiant glow and a beautifully even complexion.
I love talking about Jao Brand because it's such a wonderful, thoughtful brand and a green beauty pioneer, yet it seems to fly under the radar. As for the new SPFs, I think they'll become your new, year-round BFFs."
Ingredients
No Parabens, Sulphates, Phthalates, Silicone, Synthetic Dyes, PEG, TEA, DEA, Dimethicone, Mineral Oil, Animal Derivatives, PABA, or Chemical UV Absorbers. 
Tested for Broad Spectrum SPF in an FDA Registered, Certified Laboratory in accordance with FDA regulation.
Suitable for all skin types. Allergy and Dermatologist tested. Unscented.
Active Ingredient:  Zinc Oxide Non-Nano (Uncoated) 22%
Inactive Ingredients:  Aqua (Water), Glycerin, Oleyl Alcohol, Polyglyceryl-3 Polyricinoleate, Sorbitan Olivate, Shea Butter Ethyl Esters, Argania Spinosa (Argan) Kernel Oil, Tocopheryl Acetate, Cetearyl Olivate, Dioscorea Villosa (Wild Yam) Root Extract, Cetyl Esters, Panthenol, Prunus Domestica (Plum) Seed Oil, Rosa Canina (Rosehip) Fruit Oil, Caprylyl Glycol, Behenyl Alcohol, Limnanthes Alba (Meadowfoam) Seed Oil, Squalane (Olive Oil), Ethylhexylglycerine, Glycine Soja (Soybean) Sterols, Butyrospermum Parkii (Shea) Butter, Cellulose Gum, Hexapeptide -48 HCL, Bisabolol, Caprylhydroxamic Acid, Xanthan Gum, Camellia Sinensis (Green Tea) Leaf Extract, Rosmarinus Officinalis (Rosemary) Extract, [+/-: Iron Oxides (CI 77491, 77492, 77499)].
FAQ 
How pigmented is this product?
This product is a highly-pigmented moisturizer. Non-nano uncoated Zinc Oxide and Iron Oxides are the color agent in this product. They are safe pigments, with no known adverse effects. Please Note: We use minerals (iron oxides) to tint our 5-in-1 face sunscreens instead of synthetic F, D & C dyes. As such, each batch varies in color.
Will this product take place of my foundation or will it shear out?
When wearing this product applying a foundation is not needed as the Tinted Face Crème is formulated with 22% Zinc Oxide which is white and then colored with iron oxides. The mixture of the two gives as full a coverage as you want.
Do I need to apply SPF when wearing this product?
It is always important to apply an SPF to the skin to protect it from the sun's UVA/UVB rays. With that being said, applying an SPF is not needed when wearing this product. This is because the Tinted Face Crème Day already works to block the sun's UVA/UVB rays with the physical barrier properties of Mineral SPF 30 non-nano uncoated Zinc Oxide. Note: Layering two SPF does not add up to a higher level of protection, you should always aim for a higher SPF rather than a lower one to be sun safe.
What shade will work best for my skin tone?
Everyone has a different skin tone which makes them unique and beautiful. The amazing feature of the Tinted Face Crème is that you can wear one shade on its own or you can mix and match the colors to find your own perfect shade. (This is the #1 trick used by MUAs to color match clients.)
What is the formulation of the Tinted Face Crème and how does it wear on the skin?
This product is an ultra-luxurious moisturizer that will definitely leave the skin soft and supple. Upon application, the formulation of this product may seem heavy and this is because it is very difficult to get a stable product when making a Zinc Oxide moisturizer with NO SYNTHETIC emulsifiers (no silicones either). However, once rubbed into the skin you will feel like you're not wearing anything. This formulation makes it suitable for hitting the slopes in winter.
What is the finish of the Tinted Face Crème?
This tinted moisturizer provides full coverage, a natural finish, and protection with Mineral SPF 30 non-nano uncoated Zinc Oxide.
Can I apply a powder on top of this product?
Yes you can apply a powder on top of this product, applying it really just depends on the desired outcome. Adding powder on top of liquid products tends to help lock the products in place and help prevent an oily and shiny look. People with oily skin can add a powder to create a more matte finish.
Is it Reef Safe?
Our Tinted Face Crème is Reef Safe as we have sourced large particle uncoated Non-Nano Zinc Oxide at 22%. [If your sunscreen is zinc oxide with nano sized particles it is not reef safe. Per the New York Times, any particles smaller than 100 nanometers can be consumed by coral.]
Will this product cause flashback in photos?
Most products containing SPF have the potential to cause flashback especially products containing Zinc Oxide and Titanium Dioxide. This happens because Zinc Oxide is a white mineral powder and works by reflecting sun rays, therefore, white tends to reflect during flash photography. Keep this in mind when taking pictures with flash photography.
Can I mix Tinted Face Crème and SunGleam Illuminator with other products containing oil?
Our Tinted Face Crème and SunGleam Illuminator will not break down with oils. You can mix them into any product with oil to thin them and spread them out, HOWEVER, this will LOWER the SPF rating!