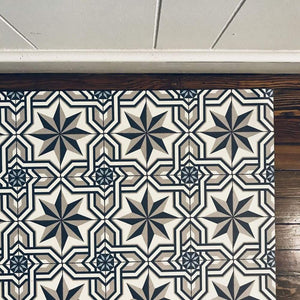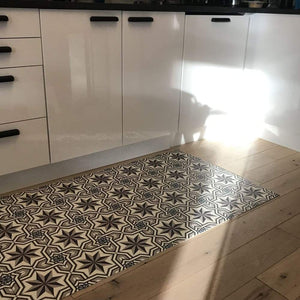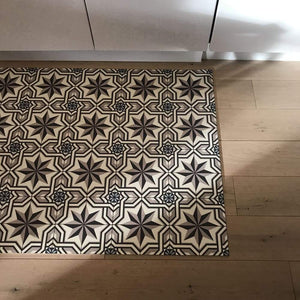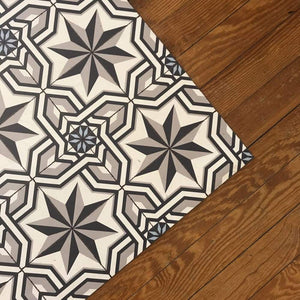 Product image 1
Product image 2

Product image 3
Product image 4

Product image 5
Product image 6

Product image 7
I wanted the floor in a corner shop in Paris in the 4th arr. It is gorgeous, as you can see. Now you can have one too. Works well by front doors, kitchen sinks and anywhere you need a little extra old world classic pattern. Exclusively ours.
Waterproof. Very durable and wear resistant.
Fire retardant – Meets European standards for fire retardant.
Vinyl - 85% PVC, 15% Polyester.
Made in USA.
Three Sizes:
Entry: 24" x 36" (60 x 91 cm)
Kitchen: 31.5" x 47.25" (80 x 120 cm)
Runner: 31.5" x 78.75" (80 x 200 cm)
For use on hard floors only (cement, wood, tile, linoleum or similar). Not intended for use on carpet or other soft/uneven flooring. For indoor use only. Colors may fade in prolonged direct sunlight. Can be used outside in shaded patio or balcony area. Mats do not have anti-slip surface and should not be used in wet environments.
> Why I chose this
Here is the original floor. Absolute perfection. I kept coming into this corner shop drawn in by the floor, utterly amazed at the classic timeless design, while walking between the shelves buying Badoit. And every time I'm in Paris I visit, holding my breath that it still exists, as the city of lights is so similar to the city of gritty. Everyday another old business closes, and a bit of the old is lost forever.