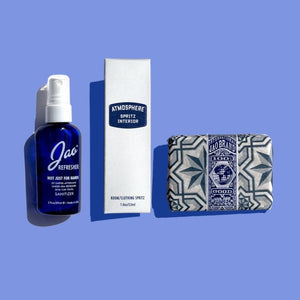 Product image 1

Product image 2
Product image 3
Save $7 when you buy the kit

Individually Priced $36 + $10 + $14 = $60
One spritz is all it takes to scent your space.
The Refresh Kit includes:
Atmosphere Room Spritz  1.8oz - An essential oil blend of the oils in our Hand Refresher; Lavender, Tea Tree, Eucalyptus, Geranium, and Sage. Works well in kitchens, bathrooms and all areas that need an uplift.
A matching 4.75oz Jao Woad Soap Bar 
and a 2oz Jao Hand Sanitizer.
Close (esc)
Popup JAO BOX
It does not show on mobile. This could have a coupon code, announce a sale or have mailing list sign up. It can also link to a product. I don't see that it's possible to add an image. This is a built in feature. It's possible an app can have pictures. It will only show every 30 days per person. . 
PRODUCT LINK